New trial for Polish soldiers over Afghanistan killings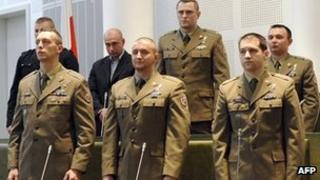 Four Polish soldiers acquitted of killing Afghan civilians have gone on trial in Warsaw for a second time.
Eight people, including women and children, died in the Afghan village of Nangar Khel when Polish troops opened fire on a wedding party in August 2007.
Military prosecutors appealed after seven soldiers were cleared of war crimes in 2011 for lack of evidence.
A court upheld the acquittal of three but ordered a re-trial for the others, who insist they are innocent.
A supreme court judge said the men had given conflicting accounts of why the village was attacked: at times they said they were responding to Taliban fire, at others they said they were following orders or that their ammunition was faulty.
'Hours after attack'
Those being tried again were named as Warrant Officer Andrzej Oscieki, Second Lieutenant Lukasz Bywalec, Senior Master Sergeant Damian Ligocki and Sergeant Tomasz Borysiewicz.
Speaking on Wednesday, Warrant Officer Osiecki said he had faith in the judicial system.
"From the beginning, we believed that we are innocent and that hasn't changed," he told a reporter outside the court.
Three young children were among those killed when Polish soldiers, members of the Nato-led International Security Assistance Force (Isaf), attacked the village in Paktika province, with up to 24 mortar rounds and automatic weapons.
It was the first time Polish soldiers had been accused of violating the Hague and Geneva Conventions protecting civilians.
Prosecutors initially called for sentences of between five and 12 years for the accused, who are from Poland's 18th Airborne-Assault Battalion.
The soldiers say they came under fire and were aiming to hit Taliban militants, insisting that the civilian deaths arose from faulty mortar equipment.
Prosecutors say the deaths took place several hours after a different patrol came under attack.
Poland has about 2,500 troops serving as part of the 130,000-strong Nato-led force in Afghanistan.