France's most prominent exiles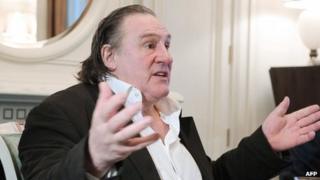 Tax policy rarely makes headlines in France, but the row between the country's best-known actor and the government has given the issue unusual prominence in recent weeks.
Gerard Depardieu's opposition to plans for a new 75% rate of income tax prompted him to announce last month that he was leaving the country. When Prime Minister Jean-Marc Ayrault called the move "shabby", the actor said he would tear up his French passport.
The row took a new twist last week, when Mr Depardieu applied for Russian citizenship, professing his love for a "great democracy". President Vladimir Putin gave him his new passport in person at the weekend.
The very public row between a larger-than-life personality and the Socialist government has put the issue of tax exiles to the fore.
But over the years many sportsmen, entertainers and economic leaders have quietly chosen to leave France for a variety of reasons.
Switzerland - the adoptive homes of celebrities from the world over - appears to be the destination of choice for prominent French exiles.
Singer Charles Aznavour - who had public rows over taxes with French authorities in 1970s - has lived there for four decades.
Actor Alain Delon set up a luxury goods company in his name in Geneva in 1978 and acquired Swiss citizenship in 1999.
Singer Johnny Hallyday moved to the ski resort of Gstaad in 2006. Media reports suggest he is paying much less in tax in Switzerland than he would in France at the moment - let alone if he had to face a 75% rate over 1m euros in earnings.
World rally champion Sebastien Loeb became a Swiss resident in 2003. Three years ago he gave the following reason for the move: "French taxes are huge and the career of a sportsman does not last forever."
Jo-Wilfried Tsonga, France's top male tennis player, has resided in Switzerland since 2008, although he has not cited lower taxes as a reason for his decision.
Other past and present French tennis stars who have become Swiss residents include Guy Forget, Amelie Mauresmo, Richard Gasquet, Gilles Simon, Fabrice Santoro, Gael Montfils, Cedric Pioline, Henri Leconte, and Marion Bartoli.
French-speaking southern Belgium is favoured by some. Mr Depardieu announced he was buying a house there last month.
Bernard Arnault, head of the luxury goods group LVMH and France's richest man, applied for Belgian citizenship in September - although he denied that this was for tax reasons, and said he would continue to pay taxes in France.
The actor Christian Clavier, Depardieu's fellow star in the Asterix film franchise, moved to London last year. His agent described the move as temporary and not motivated by taxes.
Correction, 10 January 2013: This story originally referred to the Carrefour supermarket chain, saying it was controlled by the Meunier family, but this was a mistake and it has been removed.