Belgian children escape coach fire on Swiss motorway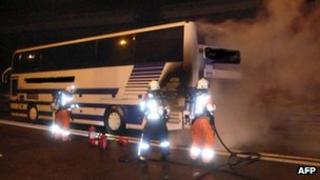 The driver of a Belgian coach on a skiing trip has safely evacuated his 45 passengers, including 38 children, after it caught fire in Switzerland.
Noticing smoke from the engine at about 05:00 (04:00 GMT), he pulled on to the hard shoulder of the A2 motorway outside the Gothard tunnel.
No member of the party, which was bound for Italy, was hurt and a replacement coach was despatched.
A Belgian school coach crashed in Switzerland last year with 28 deaths.
An investigation is still under way into how that vehicle crashed in a tunnel of the A9 motorway near Sierre, in the canton of Valais, on 13 March.
Among the dead were 22 schoolchildren returning from a skiing holiday.
Tuesday's incident occurred near the village of Goeschenen, in the canton of Uri.
According to Belgium's Le Soir newspaper, most of the children on the coach, believed to be aged between 10 and 12, were asleep when the driver pulled in.
The evacuation passed off in an orderly fashion, the paper notes, with the passengers' luggage also safely removed from the vehicle.
The passengers were brought to a Swiss fire station and a Swiss investigation into the fire has been opened.