Alleged CIRA death threat against Irish members of British Army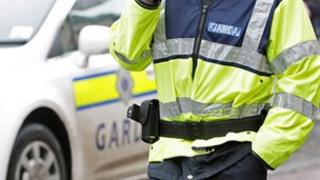 Irish police are investigating reports that paramilitary death threats have been made against Irish people serving in the British Army.
According to a number of Irish media outlets, the threats were made during a republican commemoration in Limerick city on Sunday.
They were allegedly read out in a statement on behalf of the Continuity IRA during a Sean South commemoration.
A police spokesman would not comment on details of the incident.
The Irish Independent newspaper reported that it took place during the annual Sean South ceremony in Mount Saint Lawrence cemetery.
It said the CIRA statement was read out in front of 60 people at the IRA man's graveside.
It allegedly warned that Irish people in the British Army are "legitimate targets" for the dissident republican group.
The Irish state broadcaster, RTE reported that several of those who attended the event were dressed in paramilitary-style uniform.
Last month, Irish police refused to comment on reports that they had foiled a CIRA plot to murder a serving British soldier as he returned to his home in County Limerick for the Christmas holidays.