Russia's Mordovia woos new citizen Gerard Depardieu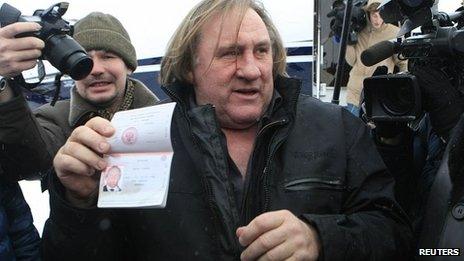 The Russian region of Mordovia has invited French actor Gerard Depardieu to set up home there, hours after he received his Russian passport.
Governor Vladimir Volkov said he could choose an apartment or a place to build a house, Interfax news agency reported.
Mordovia is best known for its Stalin-era gulag prison camps.
Mr Depardieu has taken Russian citizenship after the French government criticised his decision to move abroad to avoid higher taxes.
The BBC's Daniel Sandford, in Moscow, says even today harsh prisons are Mordovia's principal employer.
One of the convicted members of the punk band Pussy Riot - Nadezhda Tolokonnikova - is serving her sentence there.
The actor boarded a flight to Mordovia's snow-covered main city, Saransk, after meeting Russian President Vladimir Putin in the Black Sea resort of Sochi, where he also received his passport.
Waving the new document, he was welcomed to Saransk by women wearing national costumes and served blini - traditional pancakes. He was also presented with a pair of felt boots and two kittens.
"I am very happy, it's very beautiful here, beautiful and soulful people live here," Interfax quoted him as saying.
While in the city, Mr Depardieu asked to see a monument to Yemelyan Pugachev, leader of an 18th Century peasant rebellion whom he reportedly wants to play.
If the actor lives in Russia for at least six months each year he will pay just 13% in income tax, our correspondent says.
Mr Depardieu's tax row began last year after President Francois Hollande said he would raise taxes to 75% for those earning more than 1m euros (£817,400).
The actor announced in early December that he would move to Belgium, accusing the socialist government of punishing "success, creation and talent".
French Prime Minister Jean-Marc Ayrault branded his decision to move abroad as "shabby and unpatriotic".
The actor has developed close ties with Russia and was described by Mr Putin as a friend.
He currently appears in an advertisement for Sovietsky Bank's credit card and is featured on the bank's home page.
In 2011, Mr Depardieu played the lead role in the film Rasputin, a Franco-Russian production about the life of the eccentric monk.