French-Moroccan family dies in plane crash near Grenoble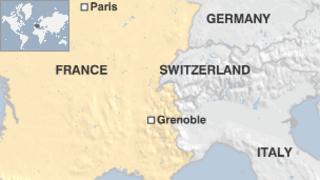 A private plane has crashed near Grenoble in south-eastern France, killing all five people on board.
The twin-engine aircraft went down after take-off near the airport, about 50km (30 miles) north-west of Grenoble.
The cause of the crash is unclear. The victims were a French-Moroccan couple and their children, officials said.
They say the couple were piloting the plane, which was headed back to Morocco after a family holiday. Grenoble is the gateway to France's Alpine resorts.