Nine pot-bellied pigs found abandoned on Irish mountain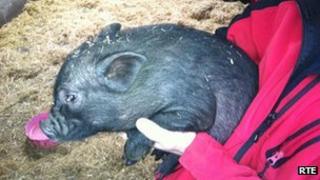 Nine pot-bellied pigs have been found abandoned on a mountainside in the Republic of Ireland.
The piglets were discovered two days ago by a woman who was walking her dogs on Mount Leinster in County Wexford.
Volunteers from South East Animal Rescue rounded up the piglets and have appealed for help to re-home them.
They said they believed the animals, which are all male and 12-16 weeks old, were bred for Christmas presents and then dumped when they were not sold.
Heather Wall from the South East Animal Rescue said it took a team of volunteers two days to catch all the pigs and bring them off the mountain.
"They are very fast and they can hide," Ms Wall told the Irish state broadcaster, RTE.
"We actually had to use dogs to sniff them out, to find them for us, because we didn't have a hope," she said.
"We were trying to look for them and the only thing you can do is, when you see one, just try and grab it because they squeal and they run around everywhere".
All nine pigs are currently being given shelter by a foster family just outside Enniscorthy, County Wexford.
Ms Wall said she believed they were abandoned because they were male piglets, which are usually more difficult to sell as they are sometimes perceived as being more aggressive than females.
She added South East Animal Rescue has received a lot of interest and were hopeful that they could find permanent homes for all the animals.
The pot-bellied pig is a domesticated breed that originated in Vietnam.