EU federalists: UK could be 'associate member'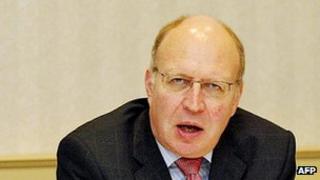 The UK could be offered second-class status in the EU, under a proposal from some senior politicians in Brussels.
Andrew Duff, a Lib Dem MEP, heads the Union of European Federalists, which has long pushed for more pooling of sovereignty.
He told the BBC "associate member" status would mean the UK giving up much of its influence in the EU.
"We're now at a point where there ought also to be the option of various formal tiers of membership," he said.
In early 2013, UK Prime Minister David Cameron is due to give a major speech on Britain's relationship with Europe. He is expected to call for some powers to be returned from Brussels to London.
Powers in the areas of justice, policing and labour law are high on Mr Cameron's Conservative Party wish-list.
Many Conservatives want to go further, with an "in or out" referendum on whether the UK should be part of the EU at all.
Mr Duff said there was no enthusiasm in the EU for more British grumbling, the BBC's Matthew Price reports from Brussels. But he said he did not want to see the UK leave the EU altogether.
His group only speaks for a section of EU thinkers, our correspondent says, but the ideas will feed into the debate about the UK's future relationship with the EU.
'Still friends'
Last week former EU Commission President Jacques Delors said he could envisage the UK having a looser relationship with the EU, with a new free trade agreement, or as a "privileged partner".
"If the British cannot support the trend towards more integration in Europe, we can nevertheless remain friends, but on a different basis," the French former minister told the German business daily Handelsblatt.
Mr Delors, one of the architects of the euro, said "the British are solely concerned about their economic interests, nothing else.
"They could be offered a different form of partnership."
A member of the British Conservatives, the MEP Martin Callanan, said while he wanted changes to Britain's EU membership, he did not like the idea of second-class status.
''We'd end up with a lot of bad things in terms of all the single market legislation, but no means of influencing that legislation either through commissioners [or] MEPs. But we would still be subject to the jurisdiction of the [EU] Court of Justice.''
And the Confederation of British Industry lobby group is pressing for Britain to keep its place and status within the European Union, to push for freer trade.
The CBI's director-general, John Cridland, said: "The UK has ensured its values of free and open trade have been at the heart of Europe over the last 40 years, helping to create one of the biggest successes of the European Union - the single market."