EU leader Van Rompuy warns UK over power transfer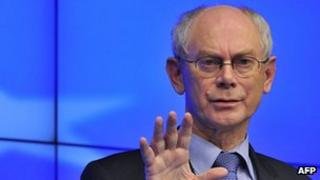 The man who chairs EU summits, Herman Van Rompuy, has warned that UK attempts to repatriate powers from the EU could seriously fracture the 27-nation bloc.
Mr Van Rompuy told the UK's Guardian newspaper that if every state were able to "cherry pick" EU policies "the union in general, and the single market in particular, would soon unravel".
In early 2013 UK Prime Minister David Cameron is due to make a key speech on the UK's future in Europe.
He wants some powers repatriated.
Mr Cameron has also said that integration of the 17-nation eurozone may mean changes to EU treaties, and that treaty revision would be an opportunity for the UK to change its relationship with Brussels.
Many members of Mr Cameron's ruling Conservative Party want a straight "in or out" referendum on the UK's membership of the EU.
While Mr Cameron is a firm advocate of the EU single market he has expressed a wish to repatriate judicial and policing powers from the EU. European labour law - especially the Working Time Directive - is another area targeted by Mr Cameron and Eurosceptic critics of the EU.
Delors viewpoint
Mr Van Rompuy, who is President of the European Council, said a British exit would cause immense damage to Europe, hurting both Britain and its EU partners. It would be like seeing a "friend walk off into the desert".
"All member states can, and do, have particular requests and needs that are always taken into consideration as part of our deliberations. I do not expect any member state to seek to undermine the fundamentals of our co-operative system in Europe," he said.
In contrast with Mr Van Rompuy's position, former EU Commission president Jacques Delors said he could envisage the UK having a looser relationship with the EU, with a new free trade agreement, or as a "privileged partner".
"If the British cannot support the trend towards more integration in Europe, we can nevertheless remain friends, but on a different basis," the French former minister told the German business daily Handelsblatt.
Mr Delors, one of the architects of the euro, said "the British are solely concerned about their economic interests, nothing else.
"They could be offered a different form of partnership."