Afghanistan Kunduz victim families file Germany claim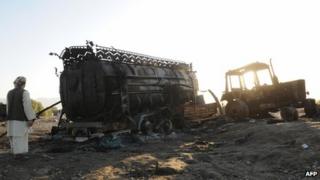 Families of dozens of Afghan civilians killed in a 2009 air strike have sued the German government for 3.3m euros (£2.7m; $4.3m) in damages.
A Germany army commander ordered the attack on two fuel tankers hijacked by the Taliban because he said they posed a threat to his troops.
The army said 91 people died in the attack in Kunduz province but lawyers for the families say 137 were killed.
Many of the victims were women and children trying to siphon fuel.
The attack on 4 September 2009 was the most controversial episode in Germany's military presence in Afghanistan.
German forces served under the Nato-led Isaf force.
'Cover-up'
Initially, German forces said no civilians had been killed but it transpired that the tankers had been abandoned by the militants.
It soon became clear that a large number of civilians had died and the attack created a political scandal in Germany in the weeks before national elections, which Chancellor Angela Merkel went on to win.
The controversy - and subsequent allegations of a cover-up - led to the resignation of Defence Minister Franz Josef Jung and the sacking of army chief Wolfgang Schneiderhan.
Col Georg Klein, who ordered the air strike, was later promoted to the rank of general.
In 2010, the German defence ministry awarded each Afghan family caught up in the attack 5,000 euros.
A Bremen-based German lawyer, Karim Popal, submitted an initial class action in 2011 on behalf of four people.
He has now filed a further 10 cases representing 79 people, both relatives of victims and those wounded in the attack.
The cases call for compensation amounting to between 20,000 and 75,000 euros each.
About 4,600 German troops remain in northern Afghanistan, carrying out mainly training and reconstruction roles.
Their numbers are to be reduced over the next year with the closure of their base in Kunduz province, before a final withdrawal by the end of 2014.