Russia's upper house approves ban on US adoptions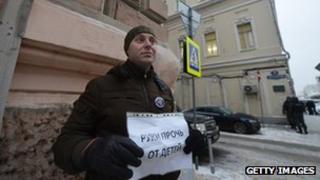 Russia's upper house of parliament has unanimously backed a bill banning Americans from adopting Russian children.
The bill also proposes to ban US-funded non-governmental organisations that do any political work in Russia.
It will become law if President Vladimir Putin signs the bill. He has previously voiced support for it.
It is a response to the US Magnitsky Act, which blacklists Russian alleged human rights violators.
Sergei Magnitsky was an anti-corruption lawyer who died in a Russian jail in 2009.
Mr Putin has labelled that measure an "unfriendly act", saying Washington should instead address human rights violations in US prisons.
Under the act, the US will withhold visas and freeze financial assets of Russian officials thought to have been involved with human rights violations.
The Duma voted overwhelmingly in favour of the bill earlier this month. All 143 senators present at the upper house on Wednesday voted in favour of it.
US state department spokesman Patrick Ventrell has previously said that Russian children would be harmed by the measure.
The rate of adoption in Russia is low. Some 3,400 Russian children were adopted by foreign families in 2011, nearly a third of them by Americans. The number of children adopted by Russian citizens was 7,416.
There have been high-profile reports in Russia about some adopted children who were mistreated by their new American parents.