Russian opposition leader Navalny faces third inquiry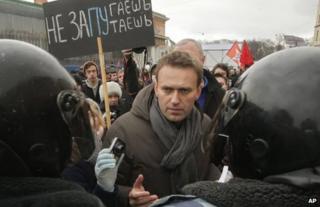 Investigators in Russia have opened a third fraud inquiry into opposition leader and anti-corruption campaigner Alexei Navalny.
They say he is suspected of defrauding a now-defunct liberal political party of 100m roubles (£2m; 2.4m euros; $3.2m) five years ago.
However, a former top figure in the party said no fraud had taken place.
Mr Navalny, who denies the allegations in the two previous cases, sought to laugh off news of the new inquiry.
"Fiddlesticks, they've opened another case against me," he wrote on Twitter. "What are you doing, Investigative Committee?... Ha ha.. That's enough."
'No robbery'
According to Russia's federal Investigative Committee, a company headed by Mr Navalny defrauded the Union of the Right Forces (SPS) in 2007 by taking payment for advertising and failing to honour its contract.
If charged and convicted, Mr Navalny could be jailed for up to 10 years.
Mr Navalny has previously stated that his company, Allekt, received commission from the SPS for its work as an advertising agent. He said the transactions had been reported to the Russian electoral commission.
Writing on his Live Journal blog on Monday, he said the new case against him had been "fabricated" by the Investigative Committee.
Former SPS figure Leonid Gozman told Russian media no fraud had occurred.
"Nothing of the sort happened - he committed no robbery," he told the Russian news website gazeta.ru.
Earlier this month, the Investigative Committee charged Mr Navalny and his brother Oleg with embezzling 55m roubles in 2008-11 while working in a postal business.
The opposition leader described the charge as "complete nonsense".
In July, he was charged with embezzlement over a timber deal - a charge he also denies.
Mr Navalny, a lawyer by training, rose to prominence last year with his campaign against corruption in public life.
He famously described Russia's ruling party, United Russia, as the Party of Crooks and Thieves.