Italy's Mario Monti to reveal political intentions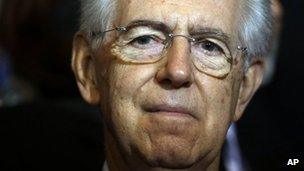 Italy's outgoing Prime Minister Mario Monti is due to reveal whether he intends to run for office in elections called for February.
Mr Monti, brought in last year to form a technocratic government, stepped down on Friday after MPs passed his budget.
That came after the party of former Prime Minister Silvio Berlusconi withdrew its support for Mr Monti.
President Giorgio Napolitano has dissolved parliament, paving the way for elections on 24-25 February.
He has called on Mr Monti to remain as head of an interim administration until the elections,
Mr Monti's announcement of his political plans is expected at a news conference in Rome.
He cannot stand for election himself as he is already a senator for life but he could theoretically return as a minister, or even prime minister, by lending his name to an alliance of separate groups or heading his own list.
Polls quoted by Italian media suggest a list led by Mr Monti would get only about 15% of the vote.
Pier Ferdinando Casini, one of a group of centrist leaders who have been seeking to convince him to stand in recent weeks, said he would respect Mr Monti's choice but said his candidacy would "give authority to our political platform".
Mr Monti was brought in to form a technocratic government last year and is widely credited in international circles with having saved Italy from a financial meltdown.
He has described his 13 months in office as a "difficult but fascinating" time.
Mr Berlusconi's conservative People of Freedom party withdrew its support for his cabinet this month, precipitating a crisis.
Despite being mired in a series of sexual and financial scandals, the three-time prime minister Mr Berlusconi is already fighting his sixth election campaign.
Since taking office with his non-party team of ministers, Mr Monti has been implementing economic austerity measures. He argues that his spending cuts and tax hikes have staved off disaster, but they have made him increasingly unpopular with the public.
Opinion polls suggest the centre-left Democratic Party, under Pierluigi Bersani, will win the largest share of the vote in the election.
Related Internet Links
The BBC is not responsible for the content of external sites.