Kerry legend Paídí Ó Sé's funeral held in Ventry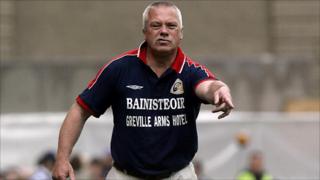 Hundreds of people have attended the funeral of Kerry gaelic football legend Paídí Ó Sé.
The 57-year-old was found dead at his home in Ventry, County Kerry, on Saturday.
Ó Sé was one of the most decorated players in the game, winning eight All-Irelands and he also managed Kerry to All-Ireland titles in 1997 and 2000.
Among those who attended were representatives of President Michael D Higgins and Taoiseach Enda Kenny.
Mr Ó Sé will be buried in the Reilig Chaitliona on the edge of the village.
He is survived by his wife, Máire, and three children.
The five-time All Star winner led Westmeath to a Leinster title in 2004 and recently managed the Clare team.
Ó Sé held the distinction of both captaining and managing his county to All-Ireland success.
He won his first All-Ireland in 1975 and won four in a row from 1978 to 1981 and another three in a row in 1984 to 1986, when they beat Tyrone in the All-Ireland final.
He also won 11 Munster titles as a player and four league titles before retiring in 1987.
Ó Sé managed Kerry from 1996 to 2003, winning six Munster titles and two All-Irelands in 1997 and 2000.
He is the uncle of Kerry stars Darragh, Tomás and Marc Ó Sé.