European Court fines Russia over Chechnya abductions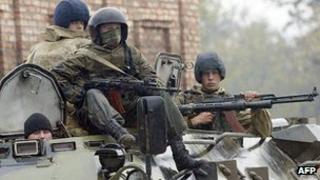 The European Court of Human Rights has told Russia to pay more than 500,000 euros (£406,000) to the relatives of eight men apparently abducted by security forces in Chechnya.
The men disappeared in 2002-2004 and are presumed dead.
The judges said Russia had violated four human rights articles and they highlighted many shortcomings in the authorities' investigations.
Chechnya was devastated by war between Russia and rebels from 1994 onwards.
Many similar cases have come before the court, which speaks of "a systemic problem of non-investigation of such crimes", in a press release on Tuesday's judgment.
It said "the court has regularly found violations of the same rights in similar cases in more than 120 judgments, resulting from the disappearances that have occurred in the Northern Caucasus since 1999".
In one of the five cases covered by the ruling, masked gunmen in camouflage uniforms and speaking Russian seized three men from their homes one morning in February 2003, taking them away barefoot and in their underwear, the statement said.
The judges decided there had been violations of the European Convention's articles on right to life, prohibition of torture or degrading treatment, right to liberty and security, and right to an effective remedy.
All the abductions happened in Grozny, the Chechen capital left in ruins by the war, but which now been largely rebuilt.
A Council of Europe report in September noted numerous similar cases had gone before the court, with similar outcomes.
"These judgments have had little impact on the Russian Federation, as complaints continue to flood in," it said.
Almost 100 complaints were lodged in 2009 alone concerning the North Caucasus, mainly Chechnya.
The Council of Europe - the main human rights watchdog in Europe - has urged Russia to improve the legal and regulatory framework governing its security operations in the region.
As many as 5,000 people remain missing since the second Chechen war of 1999-2000.
In the early 1990s separatist rebels defied Moscow and seized power in Chechnya, but Russia used overwhelming firepower against them in an offensive in 1999-2000, which largely quelled the rebellion.