France opposition UMP agrees new leadership vote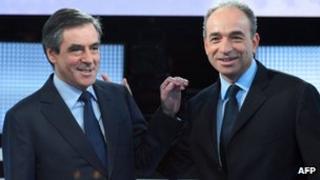 The two leadership rivals in France's opposition centre-right UMP party have agreed to hold a re-run of their controversial leadership election.
Jean-Francois Cope and former Prime Minister Francois Fillon agreed the new poll would be held before October next year.
Both claimed victory in November's poll to succeed Nicolas Sarkozy as leader of the UMP.
The dispute had threatened to break the party apart.
Mr Cope was declared the narrow winner of the first vote, but the result was challenged by Mr Fillon, who went on to form a breakaway splinter group of UMP members.
'Unambiguous deal'
The party is expected to reunite before the poll, which is scheduled to take place before parliament reconvenes after the summer recess in October.
An independent body will organise the election.
Mr Fillon's spokesman, Jerome Chartier, said this was a "clear, unambiguous deal" that would determine the UMP's "indisputable" leader.
However, Mr Fillon said he would not decide until the middle of next year whether to run in the poll.
The announcement of a deal came after a series of private meetings between the political rivals.
Previously Mr Cope had offered a fresh election, but not until after local elections in March 2014. This was rejected by Mr Fillon who set his own March 2013 deadline for any new vote.
The agreement to hold elections at the end of the summer recess appears to be a compromise.
"The problem of the calendar for a new election was the last sticking point between us," said Mr Cope, speaking to AFP on Sunday.
The fall-out from the contested election has been seen as hugely damaging to the UMP, which is Socialist President Francois Hollande's main political opposition.