Greek MP 'attacked by far-right Golden Dawn'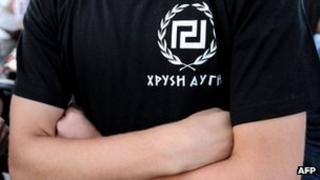 Greek left-wing MP Dimitris Stratoulis has said he was attacked in Athens by three men claiming to be supporters from the far-right party Golden Dawn.
Mr Stratoulis, from the the radical-left party Syriza, said he was leaving a football match at the Olympic stadium when he was approached by the men.
He says they threatened to kill him and hit him on the head several times, before being chased off by passers by.
A spokesman for Golden Dawn denied the party's involvement.
The spokesman told left-wing rivals to "stop [mis]using the name of Golden Dawn", and accused Syriza of promoting violence on street protests.
Mr Stratoulis had said the men identified themselves as members of the Golden Dawn party before the attack, in which he suffered only suffered light injuries.
Syriza called for swift prosecution of the men, warning that "tolerance of the fascist Golden Dawn party will lead to a loss of life".
The BBC's correspondent in Athens, Mark Lowen, says Golden Dawn party members are frequently accused of violent attacks on immigrants, political opponents and homosexuals; and the party leader has been shown making Nazi salutes at party rallies.
Golden Dawn supporters deny they are neo-Nazis.
The party has recently seen a rise in its popularity and won 18 seats in parliament on a wave of public anger against austerity,