Maurice Herzog, pioneering Annapurna mountaineer, dies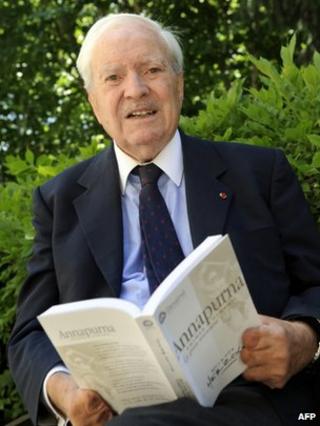 French mountaineering legend Maurice Herzog has died at the age of 93.
Herzog was famed as the first person to conquer a peak of 8,000 metres when he reached the summit of Annapurna in the Himalayas in 1950.
He told the story of the expedition, in which he lost his fingers and toes to frostbite, in a best-selling book.
Herzog died early on Friday, according to the president of the French Federation of Mountaineering and Climbing, Pierre You.
Herzog had also spent 25 years as a member of the International Olympic Committee and was a former sports minister in France.
But he was best known for his historic Annapurna climb, made three years before Sir Edmund Hillary and Tenzing Norgay conquered Mount Everest.
A photograph of Herzog waving a French tricolore at the summit was published in newspapers around the world.
Responding to news of Herzog's death, French President Francois Hollande said the feat had been "engraved enduringly in our collective memory".
"Our nation will miss Maurice Herzog," he said.