New move in Germany to ban far-right NPD party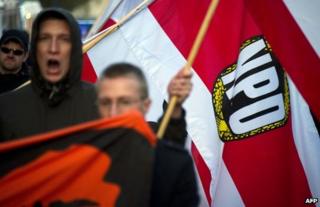 Politicians in Germany have asked the Constitutional Court to outlaw the far-right National Democratic Party, often accused of promoting neo-Nazi ideology.
The upper house of parliament voted to file the request, though Chancellor Angela Merkel has not yet given her support to the application.
She said a similar attempt had collapsed in 2003 and a new setback might only strengthen the party.
The NPD wants to restore borders to what they were before World War II.
Germany's domestic intelligence agency says the party takes a favourable view of historical Nazism.
It obtained 1.5% of the vote in the 2009 general election and is not represented in the federal parliament.
Under German law either the government or any of the two houses of parliament can apply to the Constitutional Court to get a political party banned.