Russian protest leader Navalny faces new fraud charge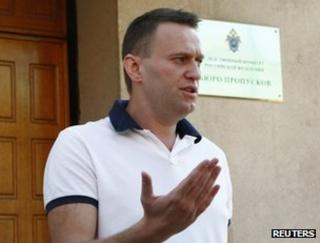 Alexei Navalny faces charges of fraud and money-laundering - the second criminal case against Russia's prominent opposition leader.
An inquiry has begun into allegations he and his brother Oleg embezzled 55m roubles (£1.1m; $1.8m) in 2008-11 while working in a mail business.
Mr Navalny, 36, described the allegations as "complete nonsense".
The inquiry was announced on the eve of an opposition rally in Moscow, which has been banned by the authorities.
In July, Mr Navalny was charged with embezzlement over a timber deal. He described that case as "absurd".
The anti-corruption campaigner, who has since been ordered not to leave the country, has suggested those charges were aimed at discrediting him.
He has led a number of mass protests this year against Russian President Vladimir Putin and what the opposition describe as rigged parliamentary elections.
Crackdown
Russian federal investigators say that in 2008 Mr Navalny and his brother - a senior official at the Mail of Russia state firm - fraudulently convinced a trading company to transport mail.
They say the shipping services were provided at "deliberately inflated prices", with the brothers pocketing 55m rubles in 2011.
The accused spent most of the 55m rubles "on their own needs" but 19m were laundered, the investigators said.
Mr Navalny first appeared to be caught by surprise by the new allegations.
"I don't know anything. My phone is on fire. As I understand, I am not enough for them any more, so they are now after my family?" he tweeted.
He later described the allegations as "complete nonsense".
Since Mr Putin was re-elected president in March, legal action against opposition figures has increased markedly.
A tough new law has passed on public order offences and tight curbs have been placed on non-governmental organisations.
This winter saw the biggest anti-government demonstrations in Moscow since the fall of the Soviet Union, with protesters accusing Mr Putin's allies of rigging the parliamentary elections in 2011.
Correction, 20 December 2012:This story originally said that charges had been brought against Alexei Navalny on 14 December. In fact, a criminal investigation was announced on that date.