MEPs lose Strasbourg shuttle case as court backs France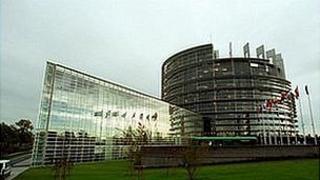 The EU's top court has overruled the European Parliament by telling MEPs to continue holding 12 full sessions each year in Strasbourg in eastern France.
The European Court of Justice ruling was a blow to MEPs - many of them British - who want to scrap the monthly shuttle from Brussels to Strasbourg.
France took the parliament to court after MEPs voted to cut one of those shuttle trips, both this year and next.
The court backed France, citing an EU treaty clause about Strasbourg's role.
The judges said the MEPs' votes on the issue, on 9 March 2011, "must be annulled to the extent that they do not provide for 12 periods of monthly plenary part-sessions in Strasbourg in 2012 and 2013".
They said that even if the extra costs of the "plurality of places of work" were acknowledged, "it is not for the Parliament or the Court to remedy that situation; rather it is for the Member States to do so, if appropriate".
France was supported by Luxembourg, which hosts the European Parliament secretariat. Businesses in Strasbourg, on the French border with Germany, thrive on the monthly influx of MEPs, lobbyists and others involved in the parliament's work.
There is cross-party support among UK MEPs for scrapping the Strasbourg shuttle, and in October a majority of MEPs voted in favour of a single seat for the parliament - Brussels.
The MEPs' campaign, called One Seat, includes an online petition signed by 1.27 million Europeans.
In a statement on Thursday the campaign's co-chair Edward McMillan-Scott, a UK Lib Dem MEP, said the Strasbourg shuttle was wasting about 180m euros (£146m; $235m) a year.
Ending the shuttle could cut 20,268 tonnes of CO2 emissions annually, the Green Party says.
"There is now a compelling case for a change to the treaty to remove this wasteful obligation imposed by EU governments," Mr McMillan-Scott said.
MEPs plan to see if their new powers under the Lisbon Treaty will enable them to initiate the necessary treaty change.