No defects in fatal County Offally crash plane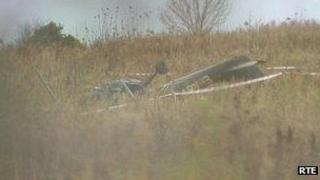 A preliminary report into a crash at an airfield in the Irish Republic has said that the plane did not have any technical defects.
Flying instructor Niall Doherty, 31, and trainee pilot Damien Deegan, 31, died when the Cessna aircraft crashed in Birr, County Offaly.
The light plane crashed took off from Birr Airfield last month and witnesses heard the engine stop.
Air accident investigators are continuing their innquiries.
The preliminary report published on Thursday said "no technical defect that might have contributed to the accident has been found".
Shannon air traffic controllers raised the alarm when the Cessna 150 aircraft disappeared from their screens on 11 November.
Emergency services began a search in an area south of the town and found the plane in woodland.
Witnesses told Air Accident Investigation Unit (AAIU) investigators the aircraft was involved in a "touch-and-go landing" before climbing away from the airfield before the crash.
During that ascent "witnesses heard the engine stop and observed the aircraft make a steep descending turn to the left before disappearing from view".