Eurozone banking supervision deal boosts EU summit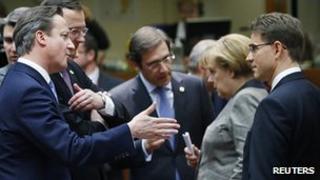 EU leaders have gone into a Brussels summit buoyed by a landmark deal on centralised supervision of eurozone banks, seen as a key integration step.
The European Commission said the leaders must "keep the same sense of urgency" despite an easing of market pressure on the eurozone recently.
The UK government says the new agreement does not threaten the City of London, the EU's main financial centre.
The leaders will discuss a far-reaching roadmap for eurozone integration.
UK Prime Minister David Cameron said the deal reached by EU finance ministers after all-night talks "protected our interests in the single market". He praised UK Chancellor George Osborne for "an excellent job".
The UK, along with Denmark, has a formal opt-out from joining the euro, and will not be part of the new banking union. But the UK's banking pre-eminence in Europe means it is taking an intense interest in the negotiations.
Mr Cameron said "this change does give us a chance to get a better deal in Europe".
Sweden is also outside the euro, and its prime minister, Fredrik Reinfeldt, said the deal would still enable non-eurozone countries to have influence in European banking decisions.
"To start with Sweden will stay outside... Swedish taxpayers don't want to cover losses in other countries," he told reporters on arrival at the summit.
Around 200 of the biggest banks will come under the direct oversight of the European Central Bank, which will act as chief supervisor of eurozone banks.
New rules on prudent banking are seen as vital to bolster the euro, as bank failures triggered the financial crash.
The measures are also aimed at preventing banking failures, of the type that happened in Greece and Spain, ending up on the books of eurozone governments.
Eurozone finance ministers also agreed formally to release a long-delayed instalment of 34bn euros (£27bn; $44bn) to Greece over the next few days, with a further 15bn later on. Athens has been waiting for the bailout funding since June.
Heavily indebted Italy has also been a worry for investors, and political uncertainty has increased since former Prime Minister Silvio Berlusconi confirmed that he would run again in a general election expected in February.
At a pre-summit meeting in Brussels conservative leaders voiced support for Italy's Prime Minister Mario Monti, some urging him to run for election against Mr Berlusconi, sources who were there said.
Mr Monti, an unelected technocrat, has pushed through some unpopular but long-delayed reforms, including big public service cuts, since taking over from Mr Berlusconi a year ago with the EU's approval.
'Core demands'
EU finance ministers finally clinched the banking deal just before dawn on Thursday after 14 hours of talks.
German Chancellor Angela Merkel welcomed the agreement, telling the Bundestag (lower house of parliament) that Germany's "core demands" had been secured. "It cannot be praised too highly."
She has previously warned against rushing into banking union out of concern that Germany would face further financial demands.
Significantly, a large number of French banks will be supervised by the ECB but rather few institutions in Germany will, because of its fragmented banking industry, says the BBC's Business Editor, Robert Peston.
European Commission President Jose Manuel Barroso hailed the deal as "a crucial and very substantive step towards completion of the banking union".
'Significant transfer'
For months, the threshold at which the ECB would act as chief supervisor has been the subject of strained negotiations.
Under the deal expected to take effect in March 2014, banks with more than 30bn euros ($39bn; £24bn) in assets will be placed under the oversight of the European Central Bank.
The ECB would also be able to intervene with smaller lenders and borrowers at the first sign of trouble, the BBC's Europe Editor Gavin Hewitt says.
Europe's finance ministers have taken another major step towards closer integration, with a significant transfer of authority from national governments to the ECB, he says.
The deal gives the ECB powers to close down eurozone banks that do not follow the rules. It also paves the way for the EU's main rescue fund to come to the direct aid of struggling banks.
It represents the first stage of a banking union - known as a Single Supervisory Mechanism (SSM) - which EU leaders believe can be put in place without having to change EU treaties.