Putin says US Congress's Magnitsky bill 'unfriendly'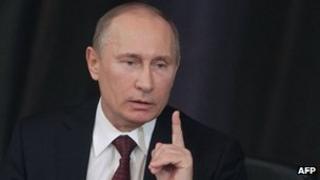 Russian President Vladimir Putin has said he fails to understand why the US Congress passed a bill aimed at barring Russians allegedly involved in an anti-corruption lawyer's death from the US.
He suggested US domestic politics were behind the "unfriendly" bill and that US-Russian relations were at stake.
Russia promised earlier to retaliate by barring American human rights abusers.
The bill is named after Russian lawyer Sergei Magnitsky, who died in custody after exposing alleged corruption.
It also extends to others outside the Magnitsky case accused of rights violations.
US President Barack Obama has yet to sign it into law.
'Shackles and chains'
Meeting Russian politicians on Thursday, Mr Putin said: "They talk about a reset [in ties between Washington and Moscow], then aggravate the situation themselves."
Saying he considered the death of Magnitsky a tragedy, he pointed out that Russia had still to complete its investigation into the case.
He also heaped scorn on the reputation of American justice.
"So nobody dies in their prisons, right? Maybe there are more [deaths] in theirs than in ours.
"Listen, they haven't shut Guantanamo for eight years now. They keep people in shackles and chains without trial or investigation, like in the Middle Ages.
"[These are] people who open secret prisons and legalised torture to conduct investigations, and these people are now lecturing us about some of our failings?"
Magnitsky, a lawyer representing London-based company Hermitage Capital Management, uncovered what he described as a web of corruption involving Russian tax officials.
He is said to have uncovered the theft of more than $200m (£125m). After reporting it to the authorities, he was himself detained on suspicion of aiding tax evasion, and died in custody on 16 November 2009 at the age of 37.
The lawyer's colleagues insist the case against him was fabricated to make him halt his investigation into a number of high-profile corrupt officials.