Eurozone bank deal: Group edges towards union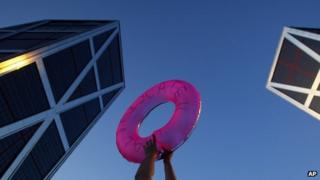 In the middle of the night, Europe's finance ministers took another major step towards closer integration. They agreed to set up a single supervisor for the eurozone's banks.
From 2014, the European Central Bank (ECB) will be directly supervising around 200 of the largest banks - but will have the right to intervene if smaller lenders are in trouble.
The ECB will have sweeping new powers and ultimately it will allow the EU's main rescue fund to channel aid directly to struggling banks.
For countries like Spain this could prove a significant lifeline. For these measures are not just about oversight, they are about breaking the loop where the failures of banks ended up on the books of governments so increasing national debt.
This deal represents another significant transfer of authority away from national governments to a European institution.
'Sad day'
It is yet a further example of how the eurozone crisis is carving out a new Europe less from choice but more by the need to survive.
The direction of travel is causing unease - and not just in Britain.
Swedish Finance Minister Anders Borg said that approval of a banking union would mark "a sad day for Europe".
His country is not joining the banking union, but Mr Borg said that "there is a move now towards eurobanks, eurotaxes, eurotransfers... We think these are steps in the wrong direction.
"It might be very popular among the eurocrats, but I think there are very few Europeans actually wanting these developments."
German Finance Minister Wolfgang Schaeuble, however, said that "painstakingly we advance the cause of Europe".
So, when Europe's leaders gather in Brussels they will be examining a "blueprint" for building what is called "genuine" economic and monetary union.
So, down the road - and probably not too far ahead - the European Union will seek closer co-ordination of national budgets and economies, how to enforce reforms and how to fund and wind down failing banks.
Britain's challenge
The wider ambitions for all this were set out by the President of the European Commission, Jose Manuel Barroso.
He sees the summit as signalling yet again the "irreversibility" of the euro and economic and monetary union.
Achieving that, he insists, will require "steps towards a political union".
As British Prime Minister David Cameron prepares for his major speech on Europe - almost certainly now in the New Year - this is the reality he must confront.
In order to save the single currency, Europe has signed up to much closer union. The landscape has been changed and will change further.
The challenge for Britain is to retain its influence in a union where the core is bent on closer integration.
Cycle of decline
Europe's leaders may well allow themselves some end-of-year satisfaction. The markets are certainly calmer than they were. That is almost entirely due to the "Draghi effect."
In September, the ECB president Mario Draghi said he would do whatever it takes to protect the euro, and investors have chosen not to bet against the ECB.
Away from the markets there has been some real progress: Labour costs have been reduced; competitiveness enhanced and deficits trimmed.
However, Europe edges towards the close of a year with many countries in recession, with unemployment increasing and debt mountains still edging higher.
Some countries seem trapped in a cycle of decline, and 2013 promises to be a difficult year.
Privately, Europe's leaders fear social unrest as many of the austerity measures are implemented at a time of recession.
They believe we are entering the dangerous period - the time between now and when some of the reforms start boosting growth.
There are other reasons that might temper seasonal cheer: Italy faces a period of political uncertainty and sooner or later the German taxpayers will have to be told that Greek debt is unsustainable and that they will have to take losses on the loans they made.
The eurozone crisis will be with Europe for some time yet.