Politkovskaya murder suspect goes on trial in Moscow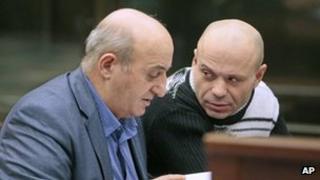 Russian prosecutors have called for a 12-year jail term for a policeman accused over the murder of journalist Anna Politkovskaya.
Former policeman Dmitry Pavlyuchenkov went on trial after reaching a plea bargain to reduce his sentence for murder and illegal possession of arms.
His long-awaited trial in Moscow was adjourned until Friday.
As part of the plea bargain, he is being tried separately from five other men accused of the murder.
Politkovskaya was an investigative journalist who wrote highly critical reports on the Kremlin and of Russian military actions in Chechnya.
On 7 October 2006, she was found shot dead in a lift at her block of flats in Moscow.
At the time, the 48-year-old was working for a small-circulation Russian newspaper, Novaya Gazeta, known for its fierce attacks on the country's authorities.
Her brutal murder shocked the media in Russia and abroad, and led to calls for better protection of journalists in the country.
Seven suspects
Lt-Col Pavlyuchenkov, a former officer in the Moscow police, is accused of equipping a group to murder her.
Under the plea bargain, the maximum prison sentence he faces has been cut by a third.
The other defendants include three members of the same Chechen family: Rustam Makhmudov, who is accused of firing the fatal shots, and his brothers Dzhabrail and Ibragim, who are accused of acting as getaway drivers.
All three men were tried and acquitted for lack of evidence in 2009 but the verdict was overturned by Russia's supreme court, which ordered them to be retried.
Investigators say they and Lt Col Pavlyuchenkov formed a gang on the orders of a Chechen crime boss, Lom-Ali Gaitukayev, who was himself allegedly in the pay of an unidentified mastermind.
Gaitukayev was arrested in 2007 in a separate case and is currently serving a jail sentence for the attempted murder of a businessman. He was charged over the Politkovskaya murder last year.
Another former police officer, Sergei Khadzhikurbanov, has been charged with providing logistical support in the crime.
Lt Col Pavlyuchenkov, who may be sentenced when the court reconvenes on Friday, also faces a lawsuit from Politkovskaya's family for compensation of 10m roubles (£202,000; $325,000; 251,000 euros).
"Pavlyuchenkov tries to present himself as someone of little importance but he without doubt knows the mastermind," her son Ilya told a news conference on the eve of his trial.