Belgium's non-EU immigrants: Many jobless, says report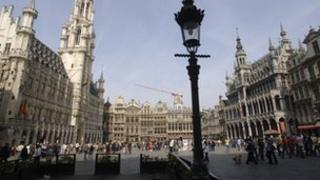 More than half of Belgium's immigrants who came from outside the EU are not registered as working, a report by the country's national bank says.
Some 45.8% were registered as working last year, apparently making it the lowest proportion of non-EU immigrants in employment in any EU state.
Lack of qualifications was given as a key factor for the phenomenon but also discrimination among recruiters.
EU immigrants had employment levels similar to those of Belgians.
Immigrants overall made up about 14% of the population, one of the highest levels in the EU, the report found.
The main countries of origin were Morocco, France, the Netherlands and Italy.
Describing its findings as "problematic", the bank noted that more than half of non-EU immigrants were poorly qualified and barely a quarter had a diploma of higher education.
"Even when people of foreign origin have completed their higher-level studies (not necessarily in Belgium), the likelihood of them working remains markedly lower than that of native Belgians," it said.
The report said evidence of discrimination in the workplace, while difficult to evaluate, was borne out by recent studies such as surveys of diversity at work.
According to Eurostat data quoted in the report, the EU average was was 58.1% of immigrants from outside the EU in work. Only data from Germany was not available.