Dutch linesman death: More arrests made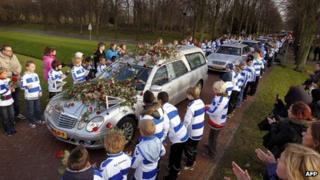 Four more arrests have been made in connection with the death of a volunteer football linesman in the Netherlands.
Three teenagers and a 50-year-old man were detained in Amsterdam on Tuesday.
Richard Nieuwenhuizen died a day after after being ambushed and kicked in the head by a gang following a game.
Four youths aged 15 and 16 had earlier been arrested. Three were charged with manslaughter, assault and public violence.
Mr Nieuwenhuizen was attacked at the end of a junior club match on 2 December, sustaining a barrage of punches and kicks.
The 41-year-old father-of three collapsed at the club later and died the following day.
The exact circumstances of the attack have yet to be established, but a group of 20 detectives are investigating the case and they say they have several dozen witnesses.
Dutch police have told the BBC they had not ruled out making further arrests, and asked anyone with photos or video recordings of the attack to submit them as potential evidence.
On Monday, hundreds lined the streets of Almere, east of Amsterdam, for Mr Nieuwenhuizen's funeral.
Many mourners dressed in the blue and white colours of his son's club, SC Buitenboys, for whom he volunteered to act as linesman for the game against the rival Amsterdam side Neuiw Sloten. They scattered the silver hearse carrying his coffin with red roses.
On Sunday, professional football clubs around the country observed a minute's silence before their games and players wore black armbands out of respect for the linesman.
The Dutch Football Association (KNVB) cancelled the weekend's 33,000 amateur fixtures and took out full-page newspaper adverts saying "Without respect, no football".