Italy's Mario Monti plays for time on election issue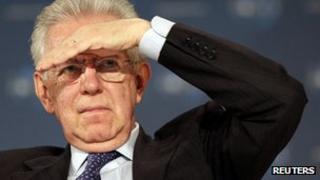 Italy's PM Mario Monti has played down speculation that he might run in forthcoming elections, saying he is focused on "completing his mandate".
Italy's main stock index fell 2.2% on Monday amid news he was to quit and that former premier Silvio Berlusconi was to run for office again.
Mr Monti said he would resign after Mr Berlusconi's party withdrew support from the government on Thursday.
Mr Monti said market reactions should not be "dramatised".
The economist, who heads an unelected cabinet of technocrats, said he was confident February's elections would lead to a "highly responsible" government.
Berlusconi indignant
As speculation swirled about whether Mr Monti's resignation meant he would run in the election, he told reporters on Monday: "I'm not considering this particular issue at this stage.
"All my efforts are being devoted to the completion of the remaining time of the current government."
A statement from the office of President Giorgio Napolitano over the weekend said Mr Monti did "not think it possible to continue his mandate and consequently made clear his intention to present his resignation".
If the law for next year's budget can be passed "quickly", Mr Monti would immediately confirm his resignation, the statement said.
For his part, Mr Berlusconi railed against negative comments from European politicians and commentators about his planned return to politics.
Such reaction was "offensive not so much to me personally but to the free choice of the Italians", he said in a statement.
An election must come within 70 days of parliament being dissolved. Italy had been due to go to the polls by April at the latest.
No Monti mandate?
Mr Monti became the leader of a technocratic government in 2011 after investors became worried about Italy's economic health.
The respected former EU commissioner had planned to serve until April, hoping this would be enough time to "rescue Italy from financial ruin".
He replaced Mr Berlusconi after Italy's 10-year bond yield reached a euro-era record of 7.48% in November 2011, bringing about Mr Berlusconi's departure.
Since then, the country's yields have dropped and the focus has shifted to Spain, which has taken a bailout for its banks, and back to Greece.
However, on Monday, Italy's 10-year bond yield jumped 0.3 percentage points to 4.8%. The country's economy has been shrinking all year - its fourth recession of the past 10 years.
Mr Monti has said he will try to pass a budget and financial stability law before the 2013 elections.
He has tried to pass reforms, including implementing in July a series of spending cuts of 26bn euros (£21bn, $32bn) over three years to tackle the deficit.
But many of the proposals have been watered down or stalled as they have gone through parliament.
Mr Berlusconi has already served as Italy's prime minister for three separate terms and built up what is believed to be a vast personal fortune from his business empire.
He was convicted of tax fraud in October, though he is appealing against that ruling. He is also on trial accused of paying for sex with an underage prostitute.
An Italian court has reportedly ordered police to track down the Moroccan woman in question - Karima El Maghroug, also known as "Ruby the Heart Stealer" - after she missed a court hearing on Monday, having texted her lawyer to say she was abroad.
Correction 11 December 2012:We have made clear that Mario Monti was playing down speculation that he would run for election - not reconsidering his resignation, as we originally implied