Italy PM Mario Monti announces plan to resign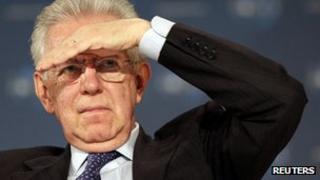 Italian Prime Minister Mario Monti says he plans to resign after Silvio Berlusconi's PDL party withdrew its support for the government.
Mr Monti, who heads a non-elected cabinet of technocrats, said he will try to pass a budget and financial stability law before standing down.
Hours earlier, former Prime Minister Mr Berlusconi said he will run for office again next year.
He said Mr Monti's austerity policies had harmed Italy.
Mr Berlusconi's People of Freedom party withdrew its support from the government on Thursday.
A statement from the office of President Giorgio Napolitano said that Mr Monti "does not think it possible to continue his mandate and consequently made clear his intention to present his resignation".
If the law for next year's budget can be passed "quickly", Mr Monti would immediately confirm his resignation, the statement said.
Earlier elections
Earlier, Mr Berlusconi confirmed he would lead his party into next year's elections - now on course to be held slightly earlier than expected.
An election must come within 70 days of parliament being dissolved. Italy had been due to go to the polls by April at the latest.
Mr Berlusconi said he felt a "responsibility" to step back into the arena because of the severity of the country's economic problems.
The BBC's Alan Johnston in Rome says that Mr Berlusconi's critics will argue he is only interested in being in a powerful enough position to protect his own business and other interests.
Mr Berlusconi, 76, resigned in November 2011 over Italy's economic troubles.
He was convicted of tax fraud in October, though he is appealing against that ruling.
Mr Berlusconi is also on trial accused of paying for sex with an underage prostitute in the so-called "Ruby" case. He denies any wrongdoing.
He has already served as Italy's prime minister for three separate terms and built up what is believed to be a vast personal fortune from his business empire.
Mr Monti - an economist - replaced Mr Berlusconi as prime minister just over a year ago, and launched a programme of reforms aimed at pulling Italy out of economic crisis.