Silvio Berlusconi confirms new Italy PM bid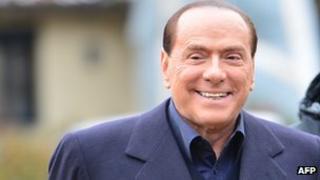 Former Italian Prime Minister Silvio Berlusconi has confirmed he will run for the office again next year.
Mr Berlusconi told reporters in Milan that he was "running to win", and that the decision came after his People of Freedom (PDL) party failed to find a leader who was as well known as him.
Mr Berlusconi said PM Mario Monti's austerity policies had harmed Italy.
Mr Monti announced he intended to resign, because the PDL had withdrawn its parliamentary support.
He would confirm his resignation after determining if it would be possible for parliament to pass a budget for next year, a statement from President Giorgio Napolitano said.
Mr Berlusconi, 76, resigned in November 2011 over Italy's economic troubles.
He was convicted of tax fraud in October, though he is appealing against that ruling.
Mr Berlusconi is also on trial accused of paying for sex with an underage prostitute in the so-called "Ruby" case. He denies wrongdoing.
He has already served as Italy's prime minister for three separate terms and built up what is believed to be a vast personal fortune from his business empire.
Fear of judiciary
Mr Berlusconi told reporters in Milan that everyone in his party had agreed that the PDL needed a leader "like Berlusconi in 1994" but "there wasn't one".
"It's not that we did not look... but one needs time to be imposed as leader," the former prime minister said.
He said he was entering the race because polls put the centre-right PDL behind the Italian left.
The PDL abstained from confidence votes in parliament on Thursday, which the government won.
Mr Monti replaced Mr Berlusconi as prime minister just over a year ago, and launched a programme of reforms aimed at pulling Italy out of economic crisis.
Mr Berlusconi said his party had given "proof of great responsibility and had supported [Mr Monti's] technocrat government for a year, seeking to correct policies that are not convincing, whilst insisting that austerity in an economy that does not grow is harmful. And harm has been done".
The former leader said he had not missed the office of prime minister "not even for a minute" and he was returning out of a "sense of responsibility".
Referring to his confrontation with the Italian judiciary, Mr Berlusconi said he saw it with "a great sense of fear because we have to do with an omnipotent judiciary".