Russians' enduring support of Vladimir Putin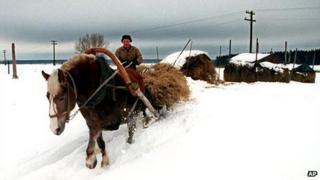 Last December, Moscow's streets were filled with thousands of opposition protesters accusing Vladimir Putin of rigging elections. A year on, the BBC's Steve Rosenberg reassesses the public's attitude to Mr Putin, from the capital to the countryside.
In a Russian winter, it is almost as if the elements conspire to keep you off the streets.
In the centre of Moscow, the cold bites to the bone, the icy pavements are an obstacle course, and the snow is like a giant swaddling blanket that makes you want to hibernate till the spring thaw.
It makes what happened one year ago so remarkable.
Last December, thousands, then tens of thousands of Muscovites took to the streets.
They accused Vladimir Putin of stealing their votes in Russia's parliamentary election; they demanded respect from the authorities.
It was a sudden, surprise eruption of frustration from Russia's emerging middle class.
But one year on that sentiment is fading.
'We need a Tsar'
"The thrill of going out on the streets has diminished, because I think nothing really changed in a positive way," says Zhanna Sharipova.
She is an internet entrepreneur who has been to several anti-government rallies in Moscow over the last 12 months and seen few results.
"To protest against Putin or the way the elections were done is nothing new. We have been protesting against that for months and months and we need new inspiration," she says.
In her tiny Moscow flat, Maria Baronova cooks breakfast for her six-year-old son. She is a single mother turned street protester, and is one of 19 activists facing possible jail terms after a rally in May ended in violence.
In recent weeks criminal charges have also been brought against some of the Kremlin's most vocal critics, in what looks like a co-ordinated crackdown.
But Ms Baronova maintains that Russia's opposition must face the uncomfortable fact that many Russians still crave the strong hand of Mr Putin.
"I really think that about half of the population enjoys this regime," she says.
"The biggest mistake of the opposition is thinking that no-one likes Putin. Go even to the Moscow suburbs and you will find there are lots of supporters of Putin living there.
"They argue with us and they tell us: 'We have to have a Tsar. We need to have a Tsar. Because the Tsar is always the person in charge in Russia.' So we now have to convince these people that this is wrong, especially for the 21st Century."
'Tried and tested'
Some 160 miles from the capital is the town of Gus Khrustalny, or Crystal Goose. Goose is the name of the local river; Crystal is what the main factory here produced for 250 years until it went bust and shut down. It feels a world away from Moscow.
On a street called 50 Years of Soviet Power, there is a small business that decorates glass rather than producing it. Most of the goblets and glasses have been bought from a Turkish company. One of the workers, Anatoly, says he does not want any change in his life.
"Putin is tried and tested and suits me fine," Anatoly says. "But what do I know about politics? I'm not interested. Whenever I hear anything about politics or protests on the TV, I just change channels."
Out on the street, Snow Inspector Svetlana is barking orders to three men with shovels.
Svetlana says she gets angry when she hears about corruption in the corridors of power.
"But street protests don't help, no-one takes any notice," she says. "Anyway, I don't see anyone better than Putin right now. Let him finish the job he's started. What Russia really needs is a new Stalin. Someone with a strong hand. Russians are only scared of the whip."
New 'roots'
Crystal Goose is typical of much of Russia.
Throughout history, many people here have looked up to their leader; wanting to believe that the good tsar in the Kremlin works night and day to make their lives better.
Away from Moscow, millions of Russians still believe that Vladimir Putin has good intentions and that when things go wrong, it is because of bad advisers, corrupt officials or criminal gangs putting spokes in the wheels.
But Russian history teaches another lesson. That political change depends less on the mood of the nation, and more on what happens back in Moscow.
"Revolutions always happen in the capital," says prominent opposition activist Boris Nemtsov. "Moscow is the most European city in Russia, with well-educated and independent minded people; Moscow is a city of the middle class. Only Moscow can change the political system."
Maria Baronova is confident that change will eventually happen.
"I think now we have some roots of civil society," she says.
"We put seeds of civil society on our soil and in 10 years we will see the result. Maybe we will change society during these years. For the last year, we have changed ourselves. Now it's time to change the people around us, who are not with us."