Three more arrested after Paris cemetery thefts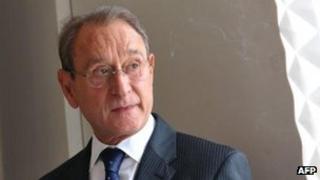 Police in Paris have arrested three more people in connection with a string of grave robberies.
Dozens of bodies have recently been dug up, with gold teeth and jewellery stolen from them, in Pantin cemetery, in the north of the French capital.
Police sources say the three men were employed by the city's cemeteries.
Last month police arrested two other men in the same cemetery. One of the suspects was found to be in possession of 10 gold teeth.
They have been charged with aggravated theft, grave robbery and violating the integrity of a corpse.
When detained, the pair were wearing miner's helmets and gloves, and their boots were covered in fresh earth.
Two other men have been arrested in connection with the crimes.
War graves
After the initial arrests, the mayor of Paris, Bernard Delanoe, expressed his outrage and ordered the city authorities to keep a careful watch on cemeteries.
Pantin cemetery is the largest in Paris, though less well known than Pere-Lachaise, Picpus or Montparnasse.
It is home to a small British and Commonwealth war graves plot, in which 93 servicemen killed on the Western Front are buried. There is also a French war graves plot from the World War I.