Romania election: Stage set for showdown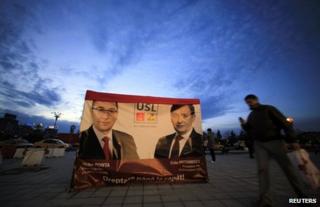 Romanians go to the polls on Sunday to elect a new parliament in a ballot which may force a bitter political cohabitation.
"We have in Romania a power in decline, that of President [Traian] Basescu," said Stelian Tanase, an independent political commentator in Bucharest.
"And another political group which is emerging to power, that of Prime Minister Victor Ponta. The fight between them is like one between two mafia clans. Cohabitation is impossible."
That battle between President Basescu and his Democratic Liberals on the one hand, and Victor Ponta and his Social Liberal Union (USL) on the other, comes to a head in the parliamentary election.
Few in Romania doubt that Mr Ponta will win but the margin of victory is crucial.
President Basescu has said clearly that he will use his powers on the day after the result to appoint a prime minister "in the national interest".
Given the enmity he feels towards Mr Ponta, it is hard to imagine that he has the leader of the USL in mind. But any attempt to appoint someone else from the USL or its allies may result in a constitutional crisis.
"According to our constitution, the president has to appoint a political personality who is able to get the support of the majority in the parliament,' said Sever Voinescu, deputy leader of the Democratic Liberals.
"That person must be reliable, and not someone who will lead the country into adventures to advance a certain political agenda."
Vanity feud?
What strikes a regular visitor to Romania as astonishing is that the public have not grown bored of a political feud which often seems to have more to do with the vanity of the main players than with genuine differences in policy.
Two governments, both backed by President Basescu, fell in quick succession in the spring of this year in a wave of street protests against the austerity measures which they introduced.
Romania failed to make use of the profits from the boom years in the mid-2000s and most people have few savings to survive the crisis.
Three million Romanians abroad still send money home but the envelopes waiting on the counters of Western Union money transfer desks all over the country are getting thinner and thinner.
There has been no mass return of Romanians from Spain or Italy. There is less and less construction or seasonal work but still a demand for cheap east European labour, in nursing homes in particular.
And even unemployment benefit or occasional work abroad seems better to most Romanians than what they would face at home. Not surprisingly, there has been little mention of absentee Romanians in the election campaign.
Economic issues are in the forefront but, according to economist Dorin Citu, the debate is at a rather low level.
"Everyone says they want to create jobs - obviously," he said.
"And they want lower taxes. It just looks like they paid someone to do a survey to see what the concerns of Romanian people are and they put those in their programmes.
"The economic programmes of the main parties don't make much sense."
Offering prayers
Inside the oldest church in Bucharest, in the historic centre of the city, people queue with slips of paper, hand-written prayers.
At the front of the church, a priest reads the prayers out loud, one by one, surrounded by the faithful. The icons are brilliant reds and golds.
There are more women than men here but a surprising number of young people as well.
For those who do not have the time to queue, you can even dictate your prayers to a motley crew of disabled people at the end of the road, who write them down and take them in for you and supplement their meagre disability benefit.
Whatever the result, the behaviour of Romania's politicians after the elections will be even more closely scrutinised in Western capitals than it was until now.
Despite Victor Ponta's relative popularity at home, his government has been sharply criticised internationally for trampling democratic norms in its eagerness to attack the president.
"The sharp and public interventions by Romania's Western partners have tempered the grab for power of the ruling alliance," said Christian Mititelu, a commentator in Bucharest.
"Unfortunately, for many Romanians exasperated with austerity and Basescu's behaviour, they also left a bitter taste," he added.