Dissident republicans suspected over Eamon Kelly murder in Dublin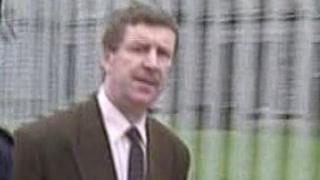 A man believed to have dissident republican links is being questioned about the murder of a leading Dublin crime figure.
Eamon Kelly, 65, was shot at Furry Park Road, in the north Dublin suburb of Clontarf, shortly after 16:00 GMT on Tuesday.
He was a convicted drug dealer and major organised crime figure.
There is speculation that the murder could be linked to the killing of Real IRA leader Alan Ryan in September.
Two gunmen in a black Lexus - which was found partially burned nearby - are believed to carried out Tuesday's murder.
A 33-year-old man was arrested close to where the car was found.
BBC Dublin correspondent Shane Harrison said it is understood Eamon Kelly had always refused to pay money to any paramilitary groups.
"Gardai (Irish police) believe that Eamon Kelly was mentoring a number of criminal gangs that may have been involved in the murder of Dublin Real IRA leader Alan Ryan three months ago," he said.
"At the time there were promises that Alan Ryan's murder would be avenged.
"It is for those reasons that the Garda believe there may be a dissident republican link to this murder."
Kelly was taken to Beaumont hospital by ambulance after he was shot but was later pronounced dead.
Police are to carry out searches at two cordoned off areas on Wednesday - the murder scene and the place where the burned-out car was found.
Kelly was jailed for 14 years in 1993 for the possession of a large quantity of cocaine. He was also at one time suspected to have links to the Official IRA.