Cargo ship Volgo Balt 199 sinks off Turkey coast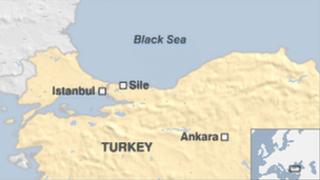 Two rescuers have died while searching for the crew of a cargo ship that sank in the Black Sea off the Turkish coast, and 10 people remain missing.
One crew member from the Volgo Balt 199, that went down in stormy seas near Sile in Istanbul province, is known to have died and four have been rescued.
Tug boats have been out trying to help a second ship at risk of sinking.
Turkey's Transport Minister Binali Yildirim said the rescue effort was operating in difficult conditions.
"Four people were rescued from the ship and one person was found dead. Rescue work continues to find others," he said, referring to the Volgo Balt 199.
"Conditions are getting worse because of the bad weather. Rescue work is under way with the help of helicopters and boats from the coastguard."
He said that, during the search for the seven missing crew members, a rescue boat was tossed against rocks and sank, killing two rescuers. Three other members of the rescue team are still missing.
The Volgo Balt 199, which was sailing under the flag of St Kitts and Nevis, was transporting coal from Russia to the Turkish port of Antalya.
It had 11 Ukrainians and a Russian on board.
The ship is reported to have sent a distress signal at 07:30 GMT before contact was lost.
Meanwhile, another freighter, the BBC Adriatic with 14 crew on board, is also in difficulty after suffering mechanical failure.
Television footage showed the ship being tossed about in heavy seas.
"The sea conditions are very rough which is making the rescue operation very difficult," Salih Orakci, head of the Directorate General of Coastal Safety, said. "[But] God willing, we will save that ship."
The storm has forced the cancellation of flights and ferry services in the Bosphorus Strait, which is one of the world's busiest waterways.