Zoe's Ark trial: Head of French NGO 'was manipulator'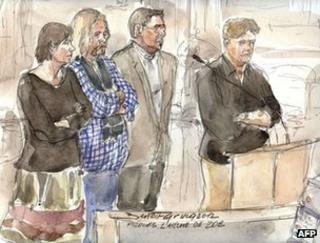 A court in Paris has heard that the head of an aid group accused of trying to smuggle African children into France was a "manipulator".
Eric Breteau, founder of the Zoe's Ark group, is accused with five others of attempting to fly 103 children from Chad to France illegally in 2007.
He and another accused, who both now live in South Africa, refused to attend the trial when it opened on Monday.
Each defendant faces up to 10 years in prison if convicted.
In a case which shocked France, the defendants were arrested in Chad as they tried to load the children on to a plane bound for France.
It turned out that the children, said to be orphans from Sudan's war-torn region of Darfur, were mostly from Chad and had families of their own.
After being sentenced to eight years' hard labour, the defendants were repatriated to France, where they were finally pardoned by Chad's president in March 2008.
'Liar and manipulator'
The six defendants are charged with acting illegally as an adoption intermediary, facilitating illegal entry into France, and fraud in regard to 358 families who had expected to adopt children.
Along with Mr Breteau, they are Emilie Lelouch, Philippe van Winkelberg, Alain Peligat, Agnes Pelleran and Christophe Letien.
Ahead of the trial, Mr Breteau and Ms Lelouch said they had "no wish to give an account of themselves" and that they "did not wish to be represented by their lawyer", a judicial source told French media.
Opening the trial, Judge Marie-Francoise Guidolin criticised their "cowardice" for failing to show up.
However, prosecutor Anne Coquet suggested it would be "disproportionate" to issue a warrant for their arrest, the French news magazine Le Nouvel Observateur reports.
The court heard sharply critical testimony from witnesses about Mr Breteau, a former volunteer firefighter who set up Zoe's Arc in 2005, initially to aid victims of the December 2004 Asian tsunami.
One nurse, Cathy de Souza, accused him of being a "liar and manipulator" who had concealed his plan to take the children to France up to the very last minute.
"We had to talk about vaccination, not evacuation," she said, quoted by French newspaper le Figaro.
'Any price'
Nathalie Cholin, a volunteer nurse who provided psychological support to medical teams in Chad and is now a plaintiff in the trial, portrayed Mr Breteau as an "all-powerful manipulator".
She described being convinced by him at a meeting in Paris that his mission in Chad would rescue Darfur orphans and find them homes in France.
Assurances were given, she said, that the operation was perfectly legal: "He told us we were acting under the 1951 Geneva Convention and I did not imagine an operation like this could be organised without the backing of the authorities."
However, once in Chad, Ms Cholin found the children were "in good health" and were "crying and asking to go back to where they had come from".
For Eric Breteau, "children had to be brought back at any price", she told the court, adding that she believed he was under "a certain pressure" from the families wishing to adopt the "orphans".
Ms Cholin said she had suffered depression after the events of 2007, feeling "deceived" as well as being upset by media coverage which suggested the aid workers were "stealers of children".
"All my values, all I believed in, everything I tried to have in my life - all of that collapsed," she told the court.