Two arrests in south-west France 'over Merah case'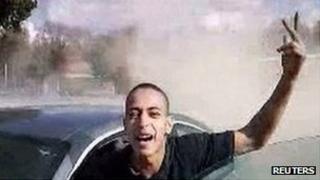 Police in south-western France have reportedly arrested two people suspected of acting as accomplices of Islamist killer Mohamed Merah.
A member of the travelling community was detained in Albi, a police source told France's AFP news agency.
A woman described as this man's former companion was arrested in Toulouse.
Merah, 24, shot three soldiers, and an adult and three children at a Jewish school, in March before being killed in a police siege at his flat in Toulouse.
The two detainees are "suspected of having helped Merah in the commission of his acts", the police source said.
An elder brother of Merah, Abdelkader, was charged earlier with complicity in the attacks.
According to AFP, he told detectives that a third man had been present when a powerful scooter used by the gunman was stolen. However, he refused to identify him.
Another brother who has publicly denounced the crimes, Abdelghani Merah, told French media about a possible "third man" who was "from the travelling community".
Shocking attacks
Merah's three deadly attacks, which took place in rapid succession between 11 and 19 March, shocked France.
Three unarmed French soldiers were killed, as well as a rabbi and three small children at the Jewish school. Merah reportedly held one little girl, Myriam Monsonego, by her hair to shoot her in the head.
French intelligence had been monitoring him as a suspected Islamist militant following trips he made to Pakistan and Afghanistan.
Cornered by police, he reportedly told negotiators he was a member of al-Qaeda.
According to French prosecutors, he expressed no regrets other than "not having claimed more victims" and was proud of having "brought France to its knees".
He said he had been motivated by the fate of the Palestinians, the French military presence in Afghanistan and France's ban on the full veil.