Milan diocese creates exorcism hotline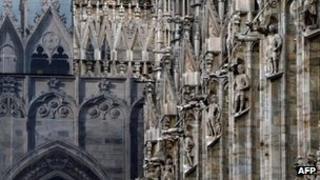 The Catholic diocese of Milan has doubled the number of priests who practice exorcism and set up a hotline to deal with the volume of calls.
In an interview published on a Church-affiliated news website, it said it had increased the number of specially trained priests from six to 12.
It has also published the names and mobile telephone numbers of priests able to deal with such requests.
The number, set up in early November, will run for a few hours each day.
People calling it will be able to book an appointment to see a local priest with specific training.
Monsignor Angelo Mascheroni, who has trained priests to carry out exorcisms for the past 15 years, said demand had soared recently.
"From the number of calls we receive, the need has doubled," he told the diocese's news website Incrocinews.
An official from the diocese told the BBC that they were receiving between three and four telephone calls a day.
Monsignor Mascheroni said the Church received interest from people from all walks of life.
"We get young and old, men and women, people with different levels of education - from school-leavers to graduates," he said.
"Often, parents call me saying that their son or daughter doesn't go to school, that they are taking drugs or rebelling. There's no demon there but, at the age of 18, young people don't want any more limitations. It's important to be able to discern the different situations," Monsignor Mascheroni said.
But cases requiring an actual exorcism were often very rare, he added.
"Everyone should be listened to with calmness and no-one should be shocked by the words they hear because God is always stronger than the devil. But really diabolical phenomena are, at least in my experience, very rare."