German MPs approve Greece bailout cash by big majority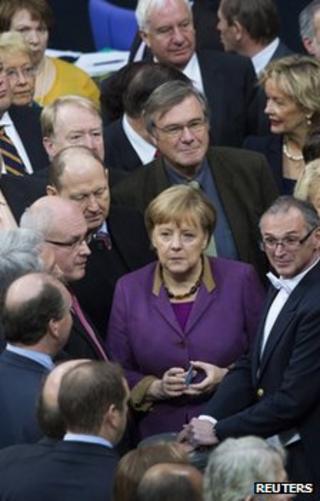 The German parliament has approved a eurozone bailout payment of 44bn euros (£32bn; $51bn) for Greece by a large majority despite unease about the cost.
The Bundestag voted by 473 in favour to 100 against, with 11 abstentions, after conservative Chancellor Angela Merkel urged cross-party support.
Finance ministers of the 17 eurozone states agreed on Monday to make the new payment to Greece on 13 December.
German sensitivities over euro debt are growing as an election year approaches.
Before Friday's vote, Finance Minister Wolfgang Schaeuble warned German MPs that the fate of the eurozone was at stake in Greece, which has had two huge international bailouts in recent years.
"A Greek bankruptcy could lead to the break-up of the eurozone," he said.
Delayed payment
Despite the fact that Greece's government had carried out reforms and passed a harsh austerity budget, the release of the next round of money was delayed for weeks by a disagreement between its lenders - the International Monetary Fund (IMF) and European Central Bank (ECB).
These had agreed to grant Greece a two-year delay in the speed of spending cuts, in order to take some of the pressure off the country's heavily depressed economy.
However, the extension inevitably meant the Greek government would be overspending for longer, and would therefore run up bigger debts than previously anticipated.
This ran into an objection from the IMF, who made clear that it could not lend money to a government whose debts it considered ultimately unlikely to be paid back.
The IMF's litmus test, laid down as a condition of Greece's latest bailout, is that the government's debts should fall to 120% of the country's annual economic output by 2020.
On Tuesday, the IMF and eurozone agreed that, in order to hit a slightly increased target of 124%, the Greek government's debts would have to be alleviated in three ways:
by requiring Athens to back some of its existing debts from private sector lenders at current depressed market prices
by the ECB passing back to Greece the profits it has made on Greek government debts it owns
by cutting the interest rate Greece must pay on existing bailout loans
Germany and other eurozone governments opposed cutting Greece's debts by simply writing off some of the 150bn euros (£122bn; $195bn) of bailout loans already extended.
The German broadcaster ARD says the deal brings a direct cost to the German federal budget - 730m euros next year and 660m euros in 2014.