EU Commission's Barroso unveils plan for euro's future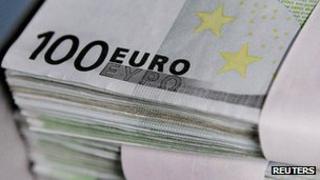 The European Commission has set out a timetable for eurozone integration, including plans for a separate eurozone budget and joint issuance of debt.
Germany, the biggest eurozone economy, remains firmly opposed to joint debt issuance - so-called eurobonds.
In the short term the commission's chief, Jose Manuel Barroso, envisages a new fund inside the EU budget to speed up structural reforms in the eurozone.
The plan to underpin the euro also looks beyond the next five years.
But a leading pro-integration MEP, Andrew Duff of the liberal group ALDE, warned that "if we have not already established a federal economic government for a fiscal union in five years' time, the euro will be dead".
Mr Duff, who is British, said he was seeking urgent clarification of Mr Barroso's blueprint.
Much of Mr Barroso's plan coincides with the eurozone integration blueprint presented to EU leaders by European Council President Herman Van Rompuy last month.
But Mr Barroso's short-term "convergence and competitiveness instrument" within the EU budget is a new idea.
It would be separate from the seven-year budget (the so-called Multi-annual Financial Framework, or MFF), which EU leaders argued over at a summit last week.
Treaty changes
The instrument - essentially a fund for struggling economies in the 17-nation eurozone - would require governments to sign "contracts" similar to the strict conditions demanded for bailouts.
Mr Barroso said: "We need a deep and genuine Economic and Monetary Union in order to overcome the crisis of confidence that is hurting our economies and our citizens' livelihoods."
The three-phase plan calls for changes to EU treaties in the medium term - that is, in 18 months' to five years' time. Treaty change is usually a thorny issue in the EU and can involve referendums and arduous negotiations.
For the longer term - beyond five years - Mr Barroso calls for "adequate pooling of sovereignty" and an integrated eurozone budget. That fiscal union "could allow for the common issuance of public debt", he said.
Germany's Chancellor Angela Merkel says joint debt issuance would violate the EU's current "no bailout" clause in the Maastricht Treaty, which launched the euro.
Germany, Austria, the Netherlands and some other eurozone countries want to avoid having to transfer funds to prop up weak eurozone partners.
The statement from Mr Duff said that "in respect of treaty change I am not alone in being confused about the Commission's intentions".
"Mr Barroso appeared to be talking about two separate treaty revision exercises, which is surely a luxury Europe cannot afford," he said.
"And the two-phase timetable of 18 months and five years is distinctly odd. In 18 months both Parliament and Commission will close down for re-election," he said, urging a speedier timetable.