Former judge Heather Perrin is jailed for deception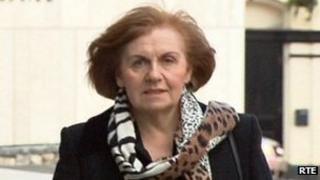 A former judge has been jailed in the Irish Republic for deceiving an elderly man into leaving half of his 1m euros (£800,000) estate to her children.
Heather Perrin, from Lambay Court in Malahide, County Dublin, resigned as a district court judge just days ago after she was convicted of deception.
The offence took place in 2009, when Perrin was working as a solicitor and assisted the man in making his will.
She cried in court as she was sentenced to two-and-a-half years in prison.
Judge Mary Ellen Ring, who heard the case at Dublin's Circuit Criminal Court, described it as "one of the most serious breaches of trust" to come before the courts.
She said Perrin had deceived her elderly client, Thomas Davis, at a stage in his life when he was dealing with the sensitive and difficult issue of his will.
'Fall from grace'
Throughout the case, Perrin had denied including her two grown-up children as major beneficiaries of Mr Davis' estate when she represented him as a solicitor three years ago.
However, the court was told on Wednesday she now accepts the unanimous verdict of the jury.
Mr Davis, now 83, gave evidence against her during the case, testifying that his actual instructions were to bequeath 2,000 euros to each of Perrin's two adult children.
Judge Ring said Mr Davis was an impressive witness who was subjected to suggestions by the defence that his memory had failed him.
She said the act of deception by a solicitor would have a profound effect on a profession which operates primarily on trust.
Perrin's defence Counsel, Patrick Gageby, had asked the court to be as lenient as possible with his client, saying she would find prison more difficult than others, in view of her position.
He said consideration had to be given to medical reports - including complications Perrin suffered following knee-replacement surgery - and her very substantial, significant and public fall from grace.
'Utter ruins'
The good picture painted by character references had to be set against a single act of dishonesty, he added.
Mr Gageby said consideration should also be given to the publicity surrounding her conviction and the fact that her professional life was in "utter ruins".
However, Judge Ring pointed out the deception was carried out when Perrin knew she was to be made a district court judge.
She said it was regrettable that any man or woman aged 61 should go to jail but added that she had no other option in this case.