Malta's Tonio Borg appointed EU Health Commissioner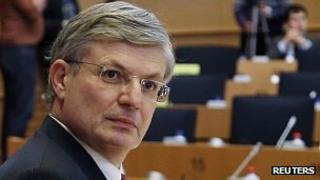 The former foreign minister of Malta, Tonio Borg, has been approved as the new EU Health Commissioner.
His Maltese predecessor John Dalli left the Commission after being linked to a cash-for-influence scandal involving new tobacco legislation.
EU ministers approved Tonio Borg's nomination a week after a majority of Euro MPs backed him in a vote.
Liberal, Green and leftist MEPs opposed Mr Borg because he has conservative views on gay rights and abortion.
The national governments and parliaments retain broad powers over health policy, rather than the EU Commission.
The controversial tobacco directive which brought down Mr Dalli will be revised, Mr Borg said.
He provided MEPs with written assurances that he would respect the European Charter of Fundamental Rights, the rights of women and gay rights, a European Parliament statement said.
A leading Lib Dem MEP, Chris Davies, noted that Mr Borg had "stated his opposition to discrimination and support for human rights", but added that liberal MEPs were "not assured that the necessary impartiality would prevail" because of the Maltese official's conservative personal views on some sensitive issues.
Malta's population is overwhelmingly Roman Catholic and the island nation has banned abortion, making it punishable with jail.