EU auditors deplore wasted farm aid in Eastern Europe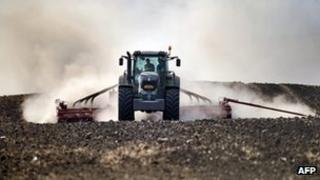 The EU's main audit body has criticised the way EU farm subsidies are allocated in Central and Eastern Europe, saying the recipients include estate agents, airports and hunting clubs.
The European Court of Auditors report covers the 10 ex-communist countries which joined the EU in 2004-2007.
They use the Single Area Payment Scheme (SAPS) - different from the direct payments used in older EU states.
About 5bn euros (£4bn; $6.5bn) was spent on SAPS in 2011.
Under SAPS rules, there is no obligation to produce goods, but farmers must maintain their land in good agricultural and environmental condition (GAEC), the auditors say.
In Hungary and Romania, the report says, inspectors found that SAPS aid had been paid to landowners who were not active farmers themselves, while the farmers actually using it had no access to SAPS aid.
In 2010 hunting associations in Poland and Hungary received 3.54m euros of SAPS aid, the report says.
An estimated 4.25m euros went to the Hungarian state for grassland used for military training. The state is the largest SAPS beneficiary in Hungary.
Skewed towards biggest
SAPS primarily benefits large farms, the auditors found, with just 0.2% of beneficiaries receiving 24% of the total payments.
There were also cases of SAPS aid being paid for abandoned land.
SAPS is a transitional arrangement under the EU's Common Agricultural Policy, that is, the new member states are expected to move to the direct payments system used in the other 15 states. But the auditors say preparations for that are inadequate and there is a risk of delayed payments in future.
SAPS aid is a flat-rate payment based on land area, whereas the older direct payments system used elsewhere in the EU includes a calculation based on previous production on the land.
The auditors call for a more balanced distribution of farm aid, either by capping higher individual payments or by assessing the specific circumstances of the farms.
They also urge the European Commission - in charge of farm payments - to stop giving SAPS subsidies to non-agricultural bodies.