EU's new ESM bailout fund legal - European Court ruling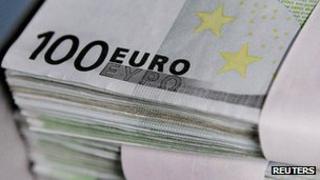 The EU's top court has ruled that the eurozone's new permanent bailout fund, the European Stability Mechanism (ESM), is in line with EU law.
The European Court of Justice in Luxembourg had examined a case lodged by an Irish MP, Thomas Pringle. He said the ESM altered the EU's powers.
The ESM was launched in October as a permanent agency, based in Luxembourg.
From 2014 it will have up to 500bn euros (£405bn; $650bn) to help countries in difficulty.
The rescue fund is available to the 17 eurozone countries - but loans will only be granted under strict conditions, demanding that countries in trouble undertake budget reforms.
Mr Pringle complained to the Irish courts, saying the ESM agreement should trigger an Irish referendum because, in his view, it transferred significant powers to the European Union.
The ESM was incorporated into the Treaty on the Functioning of the European Union (TFEU), through a new provision.
The Luxembourg judges said their examination had "disclosed nothing capable of affecting the validity of Decision 2011/199" - the government decision that launched the ESM.
The EU's founding treaty - the Treaty on European Union - and the TFEU "do not preclude the conclusion and ratification of the ESM Treaty", the judges said.
The new treaty provision allowing for the ESM was adopted by a simplified procedure, agreed by the EU government leaders.
If the member states want to change the EU's powers the corresponding treaty change normally has to be agreed at a convention, involving not only the governments but also national parliaments, the European Parliament and European Commission.
In the Pringle case the ECJ said the ESM decision "applies only to the internal policies and actions of the EU and may not increase the competences conferred on the EU in the treaties". So they said the simplified procedure was acceptable in this case.
Ireland was granted an EU bailout worth 85bn euros in 2010, to rescue its heavily indebted banks. The package included a £3.2bn loan from the UK.