Breathing space for Greece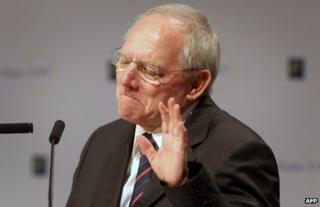 Greek Prime Minister Antonis Samaras has declared a "new day" for his troubled country. He believes that on Monday night in Brussels he won a much better deal than he could have hoped for when he came into office a few months back.
Firstly, the possibility of Greece leaving the euro in the short term is off the table. In all but name it had been since August when German Chancellor Angela Merkel decided to stick with Greece.
With a German election due next year, she was not prepared to countenance the uncertainty of a Greek exit.
Now Greece will start receiving more than 40bn euros (£32bn; $51bn) in loans as part of its bailout deal signed earlier in the year. Without this funding, the country had faced bankruptcy.
The money will be in instalments and more than 23bn euros will go towards re-capitalising the Greek banks.
That has proved the easy part of the deal. Greece was judged to have been "serious about its reforms".
The much trickier question was whether Greece was on a sustainable path. The target had been for Greece to reduce its debt to GDP ratio to 120% by 2020.
No one really believed that was possible. Greece's debt is currently about 180% of national output and rising.
It was the IMF which introduced a note of reality.
IMF lead
Under its own rules, it cannot continue supporting a programme unless there is reasonable chance established targets will be met.
In the case of Greece, the IMF did not believe that was possible. The head of the IMF, Christine Lagarde, essentially said to Europe's finance ministers that Greece's debt had to be reduced and some of it written off.
So there is now agreement to reduce Greek debt by 40bn euros. The interest rates on its loans will be cut and the repayment dates extended.
The central banks will forego profits on their holdings of Greek debt. The new target will be for Greek debt to be 124% of its GDP by 2020.
The IMF says, however, that much more will have to be done. It believes that eurozone governments will have to take a hair cut and accept a write-down on their loans.
That would have involved politicians having, for the first time, to tell their tax-payers that they would not get all their money back on their loans to Greece.
The German government was not prepared to countenance that ahead of an election.
However, German Finance Minister Wolfgang Schaeuble accepted that, later down the road, there could be debt relief if Greece completed its adjustment programme and no longer needed new loans.
And that is the big question: will this deal remove uncertainty over Greece's future and allow for confidence and investors to return?
Breathing space
Greece has had to sign up to a raft of new austerity measures. Some of them will not kick in until 2013/2014. They will further reduce demand in an economy that has shrunk 25% in five years.
Most of the forecasts have been wrong when it comes to Greece.
They have consistently under-estimated the impact of austerity on the real economy. It could still be that, in a couple of years, the economy has deteriorated further with the social fabric disintegrating.
Then - after the German elections - the big questions will have to be faced: should a substantial chunk of Greek debt be written off? Should the country get a third bailout? Will Europe tire of its Greek odyssey?
Greece has been granted another breathing space. There will be no "Grexit" - no Greek exit. The markets should like that.