A bittersweet victory for Catalonia's president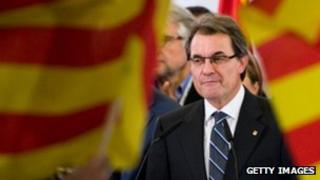 After regional elections on Sunday in Catalonia, in the north-east of Spain, Artur Mas, the man who trumpeted the cause of independence throughout the campaign will still run its regional government.
But only after he has reached a deal with other parties.
His centre-right nationalist coalition, Convergencia i Unio (CiU) still has the largest number of votes in the Catalan parliament. However last night was a disappointment for Mr Mas.
Neither the polls, nor the pundits in Catalonia predicted that CiU would lose as many as 12 seats, leaving it well short of the absolute majority.
During the campaign Mr Mas said he had needed such a majority to push-ahead with a referendum.
That said, a source close to a "somewhat disappointed" Catalan president told me that a referendum - or at least a public consultation on independence - is "still the plan".
For that to happen though he would now have to do a deal with another pro-independence party, Esquerra Republicana de Catalunya (ERC), which more than doubled the number of seats it has in the Catalan parliament.
My source said that a deal between Mr Mas' CiU and the ERC "has to be possible", and, given last night's result, "there is no other alternative".
Mr Mas' coalition and the ERC might both want a referendum on independence from Spain, but, when it comes to the economy, and how to tackle the economic crisis in Catalonia, they are poles apart.
A CiU-led government has implemented significant spending cuts and economic reforms to the public sector, including, most controversially, to Catalonia's public health system.
Alfred Bosch, a member of Spain's parliament for Esquerra Republicana says his party wants to "put the brakes" on Mr Mas' economic reforms.
Poor deal
On the issue of a possible referendum, Mr Bosch, says his party "will push them [the CiU] hard".
On whether they would win a referendum on independence, Mr Bosch points to some opinion polls which give a Yes vote as much as 57% percent.
However, other polls on the question of an independent Catalan state are much less convincing.
Whereas both CiU and ERC are split over economic ideology, both agree that Catalonia gets a poor funding deal from the Spanish central government.
They claim the taxes collected in their industry-rich region are around €16bn (£12.9bn), more than the money Madrid pays back to the Catalan government to fund the region's schools, hospitals and other public services.
Some economists cast doubt over this claim, but what is clear is that Catalonia's economy is, unsurprisingly, inextricably linked to the rest of Spain. A lot of Catalan businesses do a large proportion of their trade in the rest of the country.
In the run-up to the election we spoke to several business-owners who expressed unease about what independence might mean for the economy.
Unclear future
With a complicated result in these elections, and no simple, clear mandate for the current President Artur Mas, there is more uncertainty over the political roadmap for this region and its future relationship with the rest of Spain.
Pro-independence parties might have won a majority of the seats in the parliament, but, between them, they only increased their total by one seat. So, on the face of it, not much has changed.
However, the language of the two main parties shows how neither is ready to give up their dream of a referendum on independence from Spain.
And what also seems very unlikely at the moment, is that negotiations between Catalan pro-independence parties and Spain's ruling centre-right Popular Party will be possible, over the question of a referendum.
The PP is vehemently opposed to the idea, and the colourful language of Spanish ministers on the issue in recent weeks shows they are nowhere near a position where they might consider sitting down for talks.
They fear that would be a dangerous path, which could lead to the eventual break-up of Spain.