France UMP crisis: Jean-Francois Cope confirmed as head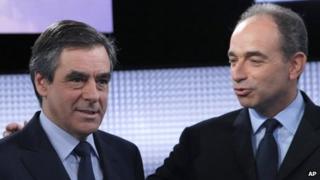 Jean-Francois Cope has won a leadership vote to head France's opposition centre-right UMP party, an internal party commission has confirmed.
Mr Cope and rival Francois Fillon have traded accusations of fraud since the 18 November election, which an initial count said Mr Cope had narrowly won.
However, Mr Fillon rejected the commission's decision as "illegal".
Ex-President Nicolas Sarkozy, a UMP member, has indicated that a fresh vote is needed, AFP reports.
He is reported to have made his views known at a lunch with Mr Fillon on Monday at which he also advised Mr Fillon against legal action.
After a fresh ballot count, the commission found that Mr Cope had won by almost 1,000 votes.
Mr Fillon had contested the vote, saying many votes from France's overseas territories have not been counted.
After the new count, which discounted contested areas and added overseas votes, Mr Cope said: "The committee has confirmed my election. It has even recorded a bigger margin in my favour. The result is there. Everybody must now respect it."
But Mr Fillon, a former prime minister, said in a statement quoted by AFP news agency: "Once again, Jean-Francois Cope has announced that he is president [of the party] by force."
Mr Fillon added that he did not consider the committee impartial.
Correspondents say that the longer the crisis goes on, the harder it is imagine the two camps ever working together again.
Many have raised the prospect of France's main right-wing party splitting. On Monday UMP treasurer Dominique Dord, a Fillon supporter, resigned from his post, accusing Mr Cope's team of using party resources for his campaign.
Mr Fillon is considered the more centrist candidate, with Mr Cope viewed as being on the right of the party.