France UMP crisis: Ex-PM Juppe 'fails to resolve crisis'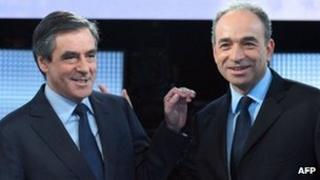 France's ex-PM Alain Juppe has said he had failed to resolve a leadership row within the opposition UMP party.
He said "conditions for a mediation were not met" during talks between the party's rival leaders.
Ex-PM Francois Fillon is disputing the party vote which gave a narrow victory to the conservative party's secretary general Jean-Francois Cope.
Each side is accusing the other of electoral fraud. Mr Fillon says he will go to court to contest the result.
With every new twist in this embarrassing political saga, the prospect of France's main right-wing party splitting into opposing factions comes closer, says the BBC's Hugh Schofield in Paris.
The likely outcome of this is that the new leader of the opposition will be Mr Cope, who, as things stand, has a lead over Mr Fillon, our correspondent says.
The longer the crisis goes on, the harder it is imagine their two separate camps - Mr Fillon the centrist, Mr Cope the right-winger - ever working together again, which means the days of the UMP as we know it may well be numbered, he adds.
'Mission over'
Mr Juppe, who had been called in to help end the crisis, said in a statement after the talks, which lasted only 45 minutes and were held at the National Assembly, that he considered "his mission is over".
Ahead of the talks, he had said he was pessimistic over their outcome.
The two men had agreed to meet for the first time since the crisis began with Mr Juppe as mediator.
Last Sunday, Mr Cope officially won the UMP election to replace former President Nicolas Sarkozy, but Mr Fillon demanded a recount after it emerged 1,300 votes had not been counted.
Mr Fillon says votes from three overseas French territories, omitted from the original count, would hand him victory by 26 votes.
He lost Sunday's ballot of the party membership by just 98 votes.