Fishermen escape burning boat in County Waterford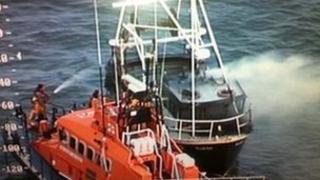 Two fishermen have been rescued after their boat caught fire off the County Waterford coast.
The crew of the 'Kingfisher' had been fishing about 10km from Dunmore East when a fire started on the vessel just after 07:30 GMT on Sunday.
They raised the alarm and search and rescue teams were alerted.
The men managed to get into a life-raft as the flames engulfed the fishing boat.
The Dunmore East Lifeboat was launched along with the search and rescue helicopter based at Waterford Regional Airport.
The fishermen, who were not injured, were picked up by another fishing vessel.
Attempts by the lifeboat crew to extinguish the fire were unsuccessful.
The boat sunk as it was being towed back to harbour by the lifeboat.